20th July 2022
Speakers – 2022
Name: Clare Guinness
Organisation: Innovation District Director, Innovation City Belfast
A leader in strategy, corporate governance, business development and change / risk management who spent 18 years in Corporate banking as well as senior roles in industry.
Clare is leading the establishment of an innovation district that will leverage digital, intellectual and real estate assets to grow the Northern Ireland economy.
Clare is passionate about achieving place-based inclusive economic growth aligned with the UN sustainable development goals.
---
Name: Conor Murphy, MLA
Organisation: Minster for Finance
Conor Murphy MLA was appointed Minister of Finance and took up his role on 11 January 2020.
He previously served as the Minister for Regional Development from 2007 until 2011 before he left the Assembly to concentrate on his role as MP for Newry and Armagh.
He returned to the Assembly in 2015 and has since been a member of both the Enterprise, Trade and Investment Committee and the Public Accounts Committee.
---
Name: Professor Jackie McCoy, MBE
Organisation: Associate Dean, Development & Partnerships, Ulster University
Jackie McCoy, MBE, SFHEA, FCMI, MIoD, is Professor of Management Development, and Associate Dean for Global Engagement at the Ulster University Business School.
Professor McCoy is a recognised authority with regard to business and management development and has acted as advisor to government on issues pertaining to the NI economy and skills, enterprise development, business growth and the development of the third sector.
She has been responsible for the design and delivery of a significant portfolio of bespoke management development solutions and has carried out extensive consultancy assignments. She is also responsible for international strategic collaborations. Jackie is a Co-Investigator on a major international cross-disciplinary ESRC funded research project under the Global Regional Challenges Fund. Her voluntary work includes Board Membership of Community Business Development organisations and she has been Chair of Belfast International Arts Festival for the past 7 years.
---
Name: John Walsh
Organisation: Chief Executive of Belfast City Council
John Walsh was appointed as Chief Executive of Belfast City Council in March 2022, following a 31 year career in Council, most recently holding the position of Director of Legal and Civic Services and City Solicitor.
John is committed to delivering on Council's ambitious plans for the city and driving forward the city's recovery journey post-Covid. As a member of the Corporate Management Team over the last two local government terms, he is one of the architects of the Belfast Agenda and has played a key role in shaping policies aligned to it as well as the draft Local Development Plan. He has led on arrangements facilitating public collaboration, public/private partnership working and joint ventures.
As City Solicitor, John was the primary legal advisor to the organisation and its 60 elected members as well as to various other Councils and statutory bodies throughout Northern Ireland.
As part of his sphere of responsibility, John led the team delivering and implementing the Councils governance and decision-making process and supporting the City's First Citizen, the Lord Mayor. In addition, John oversaw the Councils information governance, equality, facilities, corporate health and safety and Births, Deaths and Marriages functions.
---
Name: Mark Brown
Organisation: Unosquare
Mark is currently the Vice President of Technology Products and UK Country Manager for Unosquare which is headquartered in Mexico. In recent times Mark been focused on migrating several large enterprise applications to the cloud and building entirely Cloud Native Systems. Through these developments Mark has been heavily focused on tooling and approaches to make application development easier with fewer remote dependencies and increased local developer control.
Mark has previously given talks at Beltech around 'Breaking the Monolith' and 'Cloud Native Development'.
---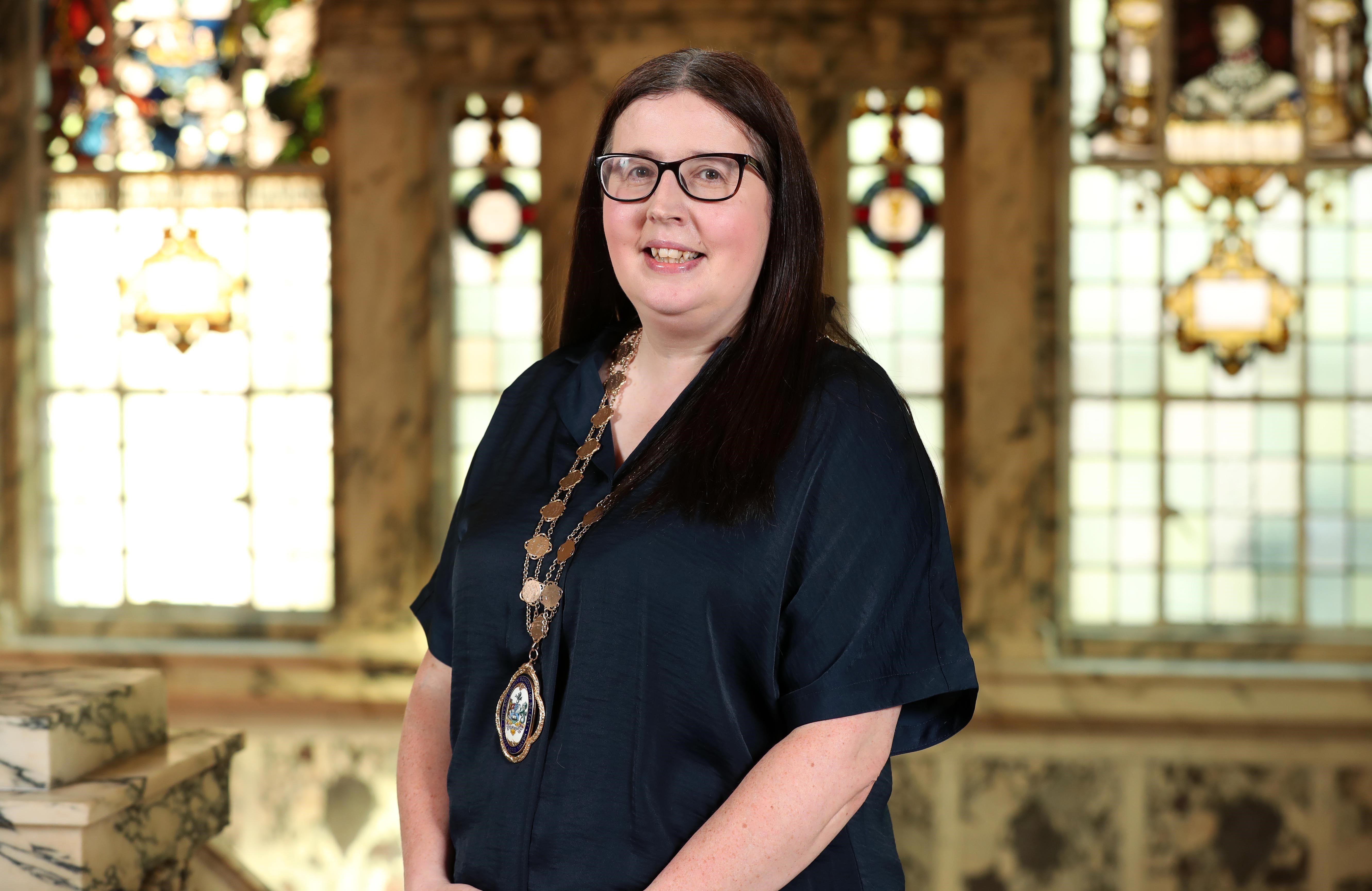 Name: Michelle Kelly, Deputy Lord Mayor of Belfast
Organisation: Alliance Party
The current Deputy Lord Mayor of Belfast is Councillor Michelle Kelly who took up office on the 1st of June 2022. Councillor Kelly is a member of the Alliance Party and has represented Titanic District Electoral Area on Belfast City Council since 2019. Councillor Kelly sits on the Strategic Policy and Resources and Licensing Committees as well as the East Belfast Policing and Community Safety Partnership. Her specific interests include mental health, women's issues and accessibility.
---
Name: Mike Nesbitt, MLA
Organisation: Ulster Unionist Party
Mike has served Strangford since May 2011, topping the poll in 2016. He Chairs the Board of Governors of Movilla High School and is a member of the Ards Suicide Awareness Group and the Ards Peninsula Coastal Erosion Group. With colleagues Jean, Naomi, and Richard, he runs a full-time constituency service from Newtownards.
Mike was Ulster Unionist Party Leader from 2012 to 2017. Currently, he represents the Party on the Policing Board and Stormont's Ad Hoc Committee in a Bill of Rights.
Mike is a former broadcaster, private sector CEO, and Commissioner for Victims and Survivors.
---
Name: Professor Paul Seawright
Organisation: Deputy Vice-Chancellor
Professor Paul Seawright OBE is the Deputy Vice-Chancellor at Ulster University.
Paul was Executive Dean of the Faculty of Arts Humanities and Social Sciences for five years and was previously Head of Belfast School of Art. Before joining Ulster he was Dean of Art, Media and Design at the University of Wales, Newport. He held the position of Director of research at Newport and is widely recognised as a subject expert in Art & Design research, participating on panels in RAE 08 and REF14 and specialist advisor in REF21.
As a former member of the HEFCE expert advisory group on the development of the REF, he has advised numerous universities worldwide on research strategy. He has sat on the advisory boards of the Imperial War Museum and British Council in London, having previously served for eight years as a Board member of the Arts Council of Northern Ireland.
Paul has an international profile as an artist and researcher. His work is held in many museum collections including the Irish Museum of Modern Art, the Tate, San Francisco Museum of Modern Art, International Centre of Photography New York, Arts Councils of Ireland, England and Northern Ireland, the UK Government Collection and the Museum of Contemporary Art in Rome.
In 2002 he was commissioned by the Imperial War Museum London as War Artist for Afghanistan and was awarded the Irish Museum of Modern Art/Glen Dimplex award for a major contribution to Irish Art.
Paul has a first class honours degree in Photography, Film and Television and was awarded a PhD by the University of Wales in 2007. He was awarded an OBE for services to Education and the arts in 2021.
He is a Fellow of the RSA and the RPS, Honorary fellow of Cardiff Metropolitan University and former Vice President of the Royal Ulster Academy of Art. He currently holds Visiting Professorships at Sheffield Hallam, Shenyang University and Luxun Academy of Fine Arts.
---
Name: Richard Williams
Organisation: Chief Executive, Northern Ireland Screen
Richard is Chief Executive of Northern Ireland Screen which has, in the last 12 years, taken the lead role in developing the screen industry in Northern Ireland.
Under Richard's leadership, Northern Ireland Screen developed the Paint Hall at Titanic Quarter as a film studio which was the home of HBO's GAME OF THRONES for eight seasons. And more recently partnered with Belfast Harbour Commission in the development of Belfast Harbour Studios, a new purpose-built studio complex.
During his time, Northern Ireland Screen has expanded its support to cover large-scale production, TV drama, independent film, factual/entertainment, animation and interactive content, including the development and production of many independent films, all genres of television and a growing number of digital content projects, including HUNGER for which Steve McQueen won the Camera D'Or, Terry and Oorlagh George's Oscar winner THE SHORE, Michael Lennox's BAFTA winner and Oscar nominated BOOGALOO AND GRAHAM and the multi-award winning DERRY GIRLS.
Richard previously worked for Waddell Media, during that time representing Northern Ireland on PACT, the Producers Alliance for Cinema & Television. He also previously worked in newspaper management and was a commercial solicitor. He was awarded an OBE in 2019.
---
Name:
Seamus Cushley
Organisation: VP Product Development
Bazaarvoice
An experienced Vice President of Product Development with a demonstrated history of over 20+ years in Technology, having held various roles in consulting, corporates, and startups, within strategy, product, and engineering. He has established and led successful product development businesses, primarily engaged in delivering new innovative products.
As a VP Product Development at Bazaarvoice, Seamus is leading the growth of the Bazaarvoice Innovation hub in Belfast.
Category: